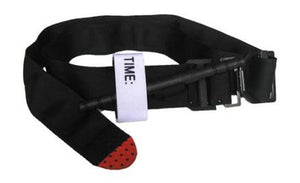 LIFE SAVING EQUIPMENT

Haemorrhaging is the leading cause of preventable death in tactical and non-tactical trauma situations. Patent Pending Finger Hole design for better grip in mud, blood, or wet weather - Easily add one or more to home emergency kits, cars, backpacks, motorcycles, range bag, construction belt or carried on person for immediate use.

- Easy Simple Design, One handed design for self-application. Apply a second tourniquet to stop difficult arterial bleeding. - Windlass quickly adjusts pressure in case bleeding restarts. - Time Stamp - Write down time of application to identify time limits and prevent potential blood poisoning.