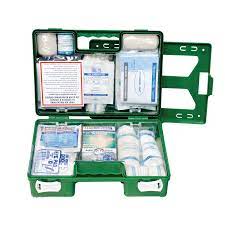 DESCRIPTION & FEATURES
 This large first aid kit is packed full of product and added with components to cover typical cover injuries found in Dairy Sheds and Farm Workplaces.

Includes premium contents for higher risk and/or large industries.
Contents feature high absorbent dressings suitable for traumatic wounds and for allowing quicker recovery times for up to 5 - 10 staff. Includes high specification contents and packed into a premium quality case.

Durable ABS Plastic Case with internal compartments for orderly storage.  Wall mount bracket with tabs for easy and quick removal in emergency. The most common size industrial first-aid kit, featuring a host of 105 pcs of high quality hospital grade components for injuries commonly found in workplace and related environments.