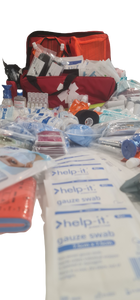 Disclaimer: This must be paid for in advance as we purchase the items to put inside. We will also need a 4-6 week grace period for all items to arrive and be put together.
These kits are personally put together by the team at ProMed Supplies in a durable medic bag. We have three different sizes and each can be easily customized to your liking!
Should you want extra items, you can order them additionally to your order from our website, or, email us at sales@promedsupplies.co.nz to ask for a quote and tell us what items you need added.
If you need a quote directly for a purchase order for your business, workplace, educational/training facility or school, email sales@promedsupplies.co.nz and we can create that for you. 
Ideal for use on work sites, building sites, schools, businesses and outdoors. It can also be used as a 'Grab n Go' bag for injuries during natural or manmade disasters.
**Packing and GST included in final price**
CONTENTS FOR SMALL EMERGENCY RESPONSE KIT:


| | | |
| --- | --- | --- |
| 1 | Small | Red Paramedic Bag |
| 10 | 30ml | Irrigation Saline Ampoules |
| 10 | 7.5cmx7.5cm | Gauze Swabs 2's |
| 2 | 2.5cm | Cohesive Bandage Assorted Colours |
| 2 | 5cm | Cohesive Bandage Assorted Colours |
| 4 | 7.5cm | Cohesive Bandage Assorted Colours |
| 2 | 10cm | Cohesive Bandage Assorted Colours |
| 10 | Small | Non-Woven Island Dressings |
| 10 | Medium | Non-Woven Island Dressings |
| 10 | Large | Non-Woven Island Dressings |
| 1 | 25mmx9.1m | Paper Tape |
| 2 | Large | Mouldable Splints (SAM Splint) |
| 2 |   | Triangle Bandages |
| 10 |   | Fabric Plasters |
| 10 |   | Fabric Knuckle Plasters |
| 10 |   | Fabric Fingertip Plasters |
| 30 |   | Antiseptic Wipes |
| 2 |   | Survival Rescue Sleeping Bag |
| 1 | 100ml | Hand Sanitizer |
| 5 | 3's | Steri Strips |
| 5 | 5's | Steri Strips |
| 5 | Small | Instant Ice Packs |
| 5 | Large | Instant Ice Packs |
| 2 | 100ml | Saline Eye & Wound Wash Bottle with Cap |
| 1 |   | Tweezers |
| 20 | XL/L | Gloves -Paired |
| 2 | Card | Splinter Probes – Card Of 5 |
| 5 | 10cmx9cm | Combine Dressings |
| 10 | 20cmx9cm | Combine Dressings |
| 5 | 20cmx20cm | Combine Dressings |
| 1 | Roll | Rigid Sports Tape |
| 2 | 4" | Military Bandages (Israeli) |
| 2 | 6" | Military Bandages (Israeli) |
| 1 | 8" | Military Bandages (Israeli) |
| 10 |   | Iodine Wipes |
| 1 | Box | Burn Gel Sachet – 6pk |
| 2 | 15cmx5cm | Burn Gel Dressing |
| 2 | 10cmx10cm | Burn Gel Dressing |
| 2 |   | Emesis Bags |
| 1 | Pack | Surgical Face Masks |
| 2 |   | CPR Face Shields |
| 5 | Sachet | HypoPak Rapid Glucose Sachet 15g |
| 1 | 1m Cut | Mefix Adhesive Strip |
| 2 |   | Tourniquet |
| 1 |   | Turbo Anti-static Asthma Spacer |
| 1 |   | Emergency Whistle |